"Moose"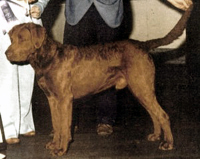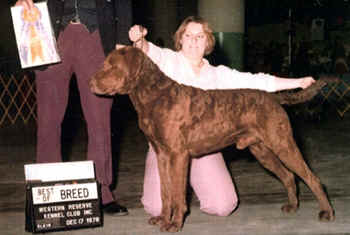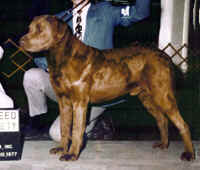 AM CH**/CAN CH* Shore Waters Michigan CD WD
(BISS CH* Salty Bomarc WD x CH Shore Waters Dark Ginger)
(also handled by good friend Meg Willliamson & Fred Lanting)
Northwyn began when I purchased my first hunting Chesapeake in 1974 from the shores of the Chesapeake Bay. Moose was my personal gundog, faithful companion and foundation. Living near the mouth of Lake Erie, the river and lake could be extremely rough during hunting season, but not so rough for a hearty Chesapeake. Moose led us into the world of dog shows, field trials, competitive obedience and OFA certification. A tremendous hunting dog who had natural hunting ability and was so forgiving of a rookie handler. Back in those days we learned by trial and error. When researching some of the pedigrees in Michigan, you will find that his genetics assured success for the future of one Michigan kennel. Because we hunt, our Chesapeakes take time off from competition to hunt in the fall.
To our knowledge, Northwyn is the oldest breeder of Champion Hunting Chesapeake Bay Retrievers in Michigan.
Northwyns owner took time off to raise a family. Although we did not compete in many events during this time, we bred hunting litters for local hunters, who wanted an all around family companion. In time, kids grew up and Northwyn dogs were again seen in competitive events.
Unfortunately, a serious automobile accident took my Gracie, Moose's grand-daughter. In time Northwyn purchased a female line-bred on Moose. We competed successfully in shows, hunt tests, and obedience. Reed was a wonderful girl who loved to hunt and was my constant companion. She produced many winners in AKC events. To read more about this wonderful girl, click on her picture below:
Although my Reed is now gone, she is missed and fondly thought of. Her legacy is carried on by her great genes: Fisher her son, Khylie her grand-daughter who produced Boston and Harper-the great grand-kidz. To view their pages, click on their pictures.
AM GCH* Can CH
Northwyns Whispering Reflection JH*
Fisher
Northwyns Little Miss Marshlan (pointed)
Khylie
Northwyn Whispers More Than A Feelin' (3-4 point majors before 19 mts) Boston
Am/Can CH BISS Redlion's Short Fuse x
Am CH**/Can CH Reed UD SH*
GCH* Can CH Northwyns Whispering Reflection JH* x Marshlans Goosy Miss Lucy
CH Hardwood's Millie's Kudos CD JH* RN x Northwyns Little Miss Marshlan
Reed's Great Grandchildren

Northwyns Ice Cold "N" Bold
Harper

HRCH UH Crosspeakes Colonial Cooper x
Northwyns Little Miss Marshlan
breeder/owner

Northwyns Golden Harvest
Harvest

CH Chesacola Hardwoods the Legend x Northwyns Little Miss Marshlan TK
owner-Karen Fraley

Northwyns "Nero"
Nero

CH Chesacolas Hardwoods the Legend x Northwyns
Little Miss Marshlan TK
owner-Allen, Amy, Aubrey Vasquez

Northwyns Little Miss Evvie Lyn
Evvie

CH Chesacolas Hardwoods the Legend x Northwyns Little Miss Marshlan TK
Elizabeth Mignin, Maggie Fisher